Smaller, faster, and easier to use: Jena company celebrates the world premier of a new fingerprint scanner at the Global Identity Summit in Florida
The small­est ten-fin­ger scan­ner in the world was unveiled by the Jena startup JENETRIC in Tampa, Florida, at the Global Iden­tity Sum­mit, the pri­mary inter­na­tional con­fer­ence of the secu­rity indus­try. The "LIVETOUCH quat­tro" takes up only about a third of the space of con­ven­tional devices and deliv­ers record­ings of the high­est qual­ity. The inno­v­a­tive user guid­ance helps to avoid errors and thus short­ens wait times.
The LIVETOUCH quattro's small size and ease of use are based on a new tech­no­log­i­cal approach. The image sen­sor uses opti­cal TFT tech­nol­ogy. The record­ing sur­face for fin­ger­prints also dis­plays oper­a­tional tips and pro­vides the user with feed­back on whether the fin­gers are posi­tioned prop­erly. All expla­na­tions are designed so that they are com­pre­hen­si­ble regard­less of lan­guage or cul­ture, mak­ing the LIVETOUCH quat­tro ideal for use at bor­der cross­ings and air­ports, where peo­ple from dif­fer­ent back­grounds may have to iden­tify them­selves by fingerprint.
"With our prod­uct, we are defin­ing a new class of ten-fin­ger­print scan­ners. We have kept the end users in mind while design­ing this device. Thanks to its unique guid­ance fea­ture, the user need not be afraid of fin­ger­print­ing. The LIVETOUCH quat­tro even makes oper­at­ing the device rather fun," said Roberto Wolfer, Co-Founder and Man­ag­ing Direc­tor of JENETRIC GmbH.
The device has fur­ther advan­tages; since it does not uti­lize the tra­di­tional opti­cal prin­ci­ple with a prism, lens, sen­sor and light­ing, it has a much smaller size and can be more eas­ily inte­grated into auto­matic record­ing sta­tions at air­ports. This allows long entry queues to be dras­ti­cally reduced.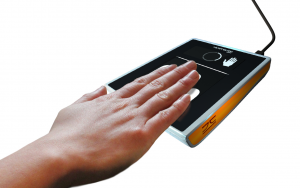 The ten-fin­ger­print scan­ner is the first prod­uct with LIVETOUCH® tech­nol­ogy that has great poten­tial for fur­ther appli­ca­tions, such as inte­gra­tion into mobile devices.
About JENETRIC
JENETRIC GmbH was founded in 2014 in Jena, Ger­many – a loca­tion famous for cut­ting-edge opti­cal tech­nol­ogy – by engi­neers with sig­nif­i­cant expe­ri­ence in fin­ger­print tech­nol­ogy and the devel­op­ment of bio­met­ric sys­tems. The mul­ti­dis­ci­pli­nary team includes hard­ware and soft­ware spe­cial­ists as well as pro­duc­tion and sales pro­fes­sion­als. The com­pany fol­lows a holis­tic approach in its prod­uct devel­op­ment with a clear and strong focus on end user require­ments and the ambi­tious goal of improv­ing liv­ing and work­ing con­di­tions via bio­met­ric systems.
Con­tact:
Roberto Wolfer (CEO)
Invest­ment Man­ager bm|t
Tel.: +49 (0) 36 41–32199 50 | Fax: +49 (0) 36 41–32199 51
Email: